Beginner Triathletes Beware

From a Half a Lap in the Pool to a FULL Triathlon in 6 months...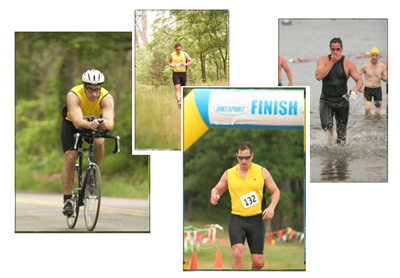 Have you ever had a goal that kept naggin' you to get done?
That's how my triathlon goal was for me the last couple of years. I wanted to compete in one because it always fascinated me performing all those events at once. In this past June – I DID IT!
The tale of how I got there for me was filled with obstacles. For one the last time I had ever tried to swim any amount of distance was way back when I was 6 or 7 years old – in swim classes.
As a matter of fact, when I hopped in the pool back in January my 230 pound frame couldn't even get to the other side. Slowly but surely I made it my mission to improve incrementally...taking it in bite sized chunks. Before you knew it I was up to several laps without stopping. WOw!
My race was a challenging but fun one. I learned tons in the couple hours it took to finish.
Now that I have a stake in the ground for completing the first one, I can move to improve my overall time step-by-step.
If you are considering racing in your first triathlon, let this story above be the inspiration you need to achieve your goal. You will be glad you did.
Focus on the end goal and you will be amazed how your body does the challenging tasks laid out before it.
Good luck! Let me know how it goes.
Here are some picts from one of my races!

Above is my first Olympic Triathlon completed in 2005

Other related articles on goal setting:
Wise People Set Financial Goals
For other endurance and fitness related articles be sure to visit Vince Palko.com
Sign Up for Vince's
Ultimate Endurance Training Newsletter
and Claim Your Amazing FREE CD GIFT ($57 Value)!